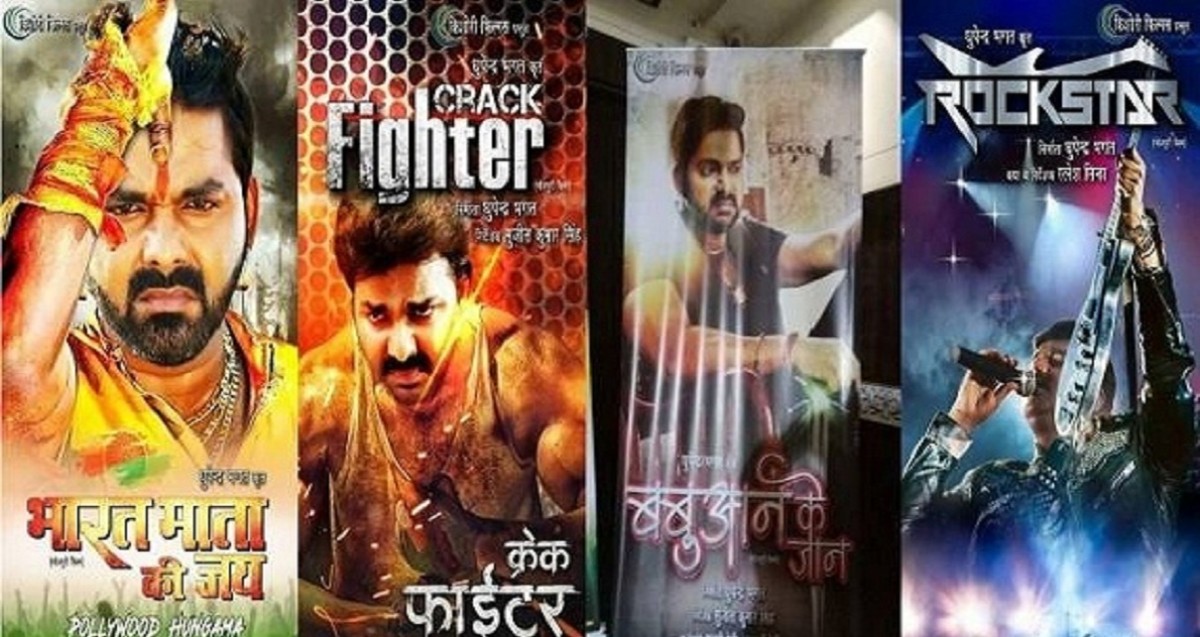 Upcoming Bhojpuri Movies 2018-2019 | Bhojpuri Movies Calendar 2018-2019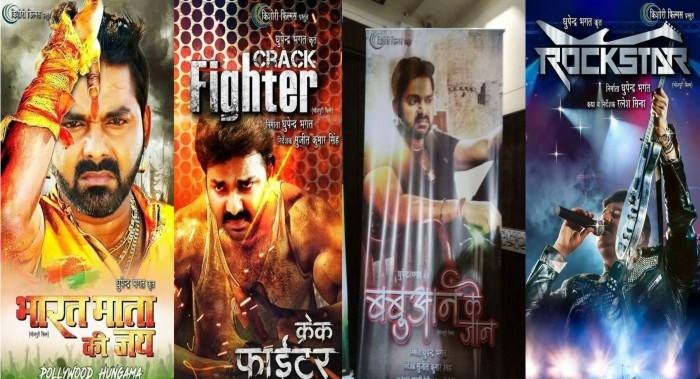 Latest Bhojpuri Movies List Release in 2018-2019
This calendar showcases the complete list of released and upcoming Bhojpuri movies of 2017-2018, as declared by their makers. Release dates may change over time by their Producers. For a complete movie list of 2018-2019, including released and films under production please check the list below this list.
Here you get the List of Upcoming Bhojpuri Movies going to release dates in 2018-2019. This list is a latest upcoming Films List of 2018-2018 With Actors, actress name with release dates by State/City in India.
Bhojpuri is a most popular Indian regional language spoken by 40 million people worldwide. Every year's approx 100+ movies released. It not true that Bhojpuri films are famous for vulgarity. Ravi Kishan Shukla, Manoj Tiwari, Dinesh Lal Yadav, Pawan Singh, Khesari Lal Yadav, Arvind Akela Kallu Ji, Pradeep Pandey, Rakesh Mishra, Ritesh Pandey are lead actors in Bhojpuri Film Industry. Akshara Singh, Amrapali Dubey, Rani Chatterjee, Kajal Raghwani, Anajana Singh, Nidhi Jha, Smriti Sinha, Madhu Sharma, Nisha Dubey, Monalisa are lead actress of Bhojpuri films. Bhojpuri Gallery compiled a list of upcoming Bhojpuri films will be released in the year 2018 and 2019. Some films are ready to release in one or two weeks or month and some films are still on initial stage. In these films, some of them are release last of 2017-2018 and start of the year 2018 and some Bhojpuri films launched recently and suiting not started yet. This list is based on different web searches, news released by different media sources and shared on social media by film PRO and associate actor, an actress of the film. We are trying very hard to prepare a complete list of all upcoming Bhojpuri movies list. Click on Movie name to see complete details of the movies.
List of Upcoming Bhojpuri Movies in 2018 and 2019 with Release Dates and Star Cast
| | | | |
| --- | --- | --- | --- |
| Sr No | Movie Name | Star Casts(Actor/Actress) | Release Date/Year |
| 1 | Bharat Mata Ki Jai | Pawan Singh | in 2019 |
| 2 | Rockstar | Pawan Singh | in 2019 |
| 3 | Crack Fighter | Pawan Singh | in 2019 |
| 4 | Babuaan Ke Jaan | Pawan Singh | in 2019 |
| 5 | Maine Unko Sajan Chun Liya | Pawan Singh, Akshara Singh | in 2019 |
| 6 | Rani Weds Raja | Rani Chatterjee, Ritesh Pandey | in 2019 |
| 7 | Giraftaar | Rakesh Mishra, Ritesh Pandey, Anjana Singh, Poonam Dubey | in 2019 |
| 8 | Karm Yug | Ritesh Pandey, Priyanka Pandit, Nisha Dubey, Sanjay Pandey | in 2019 |
| 9 | Saat Saheliyan 2 | Pradeep Pandey 'Chintu' | in 2019 |
| 10 | Balam Ji I Love You | Dinesh Lal Yadav 'Chintu', Kajal Raghwani | in 2019 |
| 11 | Nirahua Hindustani 3 | Dinesh Lal Yadav, Amrapali Dubey, Kajal Raghwani | in 2019 |
| 12 | Agneepath | Ravi Kishan, Kheshari Lal Yadav, Awadhesh Mishra | in 2018 |
| 13 | Sanki Daroga | Ravi Kishan, Anjana Singh | in 2018 |
| 14 | Samrajya | Priyanka Pandit, Rani Chatterjee, Manoj Tiger | in 2018 |
| 15 | Dabang Sarkar | Khesari Lal Yadav, Awadhesh Mishara | in 2018 |
| 16 | Bin Tere Sathi Re | Gaurav Jha and Ritu Singh | in 2018 |
| 17 | Pyar Pe War Dharam Yudh | Ganesh Singh | in 2018 |
| 18 | Balma Rangrasiya | Ali Khan, Roopa Singh, Amar Jyoti, Niraj Yadav | in 2018 |
| 19 | Shaadi Kar Ke Fhas Gaya Yaar | Aditya Ojha, Neha Shree, Tanushree Chatterjee, Prakash Jais, Sanjay Pandey, Shyamli Shrivastava | 43119 |
| 20 | Border | Dinesh Lal Yadav 'Nirahua', Amarpali Dubey | in 2018 |
| 21 | Damru | Khesari Lal Yadav, Awadhesh Mishra | in 2018 |
| 22 | Suhaag Raat | Namit Tiwari, Poonam Dubey, Seema Singh | in 2018 |
| 23 | Rani Ki Aayegi Baraat | Rani Chatterjee | in 2018 |
| 6 | Suno Sasurji | Rishabh Kashyap (Golu) | Upcoming |
| 7 | Radhe Rangeela | Rakesh Mishra, Radhe Shyam, Amrish Singh, Sangeeta Tiwari, Eenu Shree, Anand Mohan Pandey | Upcoming |
| 8 | Raj Shahenshah | Raj Chauhan, Glory Mohanta | Upcoming |
| 9 | Rudra | Yash Kumar Mishra, Tanushree Chatterjee, Nisha Dubey, Awadhesh Mishra, Manoj Tiger, Kiran Yadav, Dev Singh, Glory Mohanta | in 2018 |
| 10 | Doodh Mangoge To Kheer Denge Kashmir Mangoge Cheer Denge | Pawan Singh | in 2018 |
| 11 | Chir Haran | Viraj Bhatt, Anand Mohan, Monalisa Biswas, Seema Singh, Sanjeev Jha, Sanjay Mahanand, Glory Mohanta | in 2018 |
| 12 | Nache Nagin Gali Gali | Ritesh Pandey, Priyanka Pandit, Nisha Dubey, Brijesh Tripathi, Arjun Singh | in 2018 |
| 13 | Dulha Hindustani | ng Alok Kumar, Priya Singh, Anara Gupta, Roopa Singh, Nikhil Raj, Dilip Sinha, Mantu Lal, Mukesh Kumar | in 2018 |
| 14 | Jaan Mare Odhaniya Tohar | Gopal Rai, Rani Chatterjee, Kamrul Khan | in 2018 |
| 15 | Gaon Ke Lal | Satyendra Singh, Santosh Shrivastav, Priya Kapoor, Seema Singh, Neelam Pandey, Vipin Singh | in 2018 |
| 16 | Garam Mashala | Shyamali shrivastva, Aditya Ojha, Sanjay Pandey, Ratnesh Barnwal, Vikas Singh Virappan, Ritu Singh, Prakash Jais | in 2018 |
| 17 | Mukhtar | Ravi Raj 'Dipu', Jitendra Yadav, Sunita Pandey, Santosh Shrivastav, C.P. Bhatt, Anjali Srivastava | in 2018 |
| 18 | Dulhan Chahi Pakistan Se 2 | Pradeep R. Pandey (Chintu) | in 2018 |
| 19 | Tohre Me Basela Pran | Ritesh Pandey, Priyanka Pandit | in 2018 |
| 20 | Ek Prem Kahani | Manoj R. Pandey, Monalisa Biswas, Neha Shree Singh | in 2018 |
| 21 | Om Har Har Mahadev | Ravi Kishan Shukla, Priyesh Sinha, Amrish Singh, Gunjan Pant, Priyanka Pandit, Payas Pandit | in 2018 |
| 22 | RajKumar | Vishal Singh | Upcoming |
| 23 | Kahani Kismat Ke | Viraj Bhatt, Arvind Akela 'Kallu Ji', Kunal Singh, Subhi Sharma, Eenu Shree, Maya Yadav, Anil Yadav, Anil Yadav | Upcoming |
| 24 | Hari Om Harry | Rakesh Mishra, Ritu Singh | Upcoming |
| | Gadar 2 | Vishal Singh, Mahi Khan, Pramod Premi, Kajal Mishra, Raju Singh Mahi, Nisha Dubey | 43126 |
| 25 | Nathuniya Pe Goli Mare 2 | Vikrant Singh Rajput, Namit Tiwari, Monalisa | 43126 |
| 26 | Yodha Arjun Pandit | Pawan Singh, Neha Shree Singh, Glory Mohanta, Awadhesh Mishra, Umesh Singh, Ashutosh Khare, Ayaz Khan | in 2018 |
| 27 | Gulam | Rani Chatterjee, Shamim Khan, Vikrant Singh Rajput | in 2018 |
| 28 | Ghaat | Satyendra Singh, Priya Kapoor, Rajni Mehta, Dev Singh, Arun Singh | in 2018 |
| 29 | Prem Kaidi | Pradeep R. Pandey(Chintu) | in 2018 |
| 30 | Rambo Raja | Sanjay Mishra, Priyanka Pandit | in 2018 |
| 31 | Nirahua Michal Jackson | Birendra Singh, Sweety Chhabra, Sanjay Pandey, Ayaz Khan | in 2018 |
| 32 | Kismatwala | Nisar Khan, Priyanka Pandit, Ayaz Khan | in 2018 |
| 33 | Sanam Hamar Hau | Deepak Patel, Awadhesh Mishra, Ratnesh Barnwal, Poonam Dubey, Gopal Rai, Ayaz Khan, J.P. Singh | in 2018 |
| 34 | Dulhan Ganga Paar Ke | Trisha Khan | in 2018 |
| 35 | Ishq Deewana | Manoj R. Pandey | in 2018 |
| 36 | Laga Deb Jaan Ki Bazi | Vinay Rana, Kajal Singh, Avinash Shahi, Bipin Singh, Heera Lal Yadav, Vishnu Shankar Belu | in 2018 |
| 37 | Lootere | Pawan Singh, Yash Kumar Mishra, Gaurav Jha, Akshara Singh, Poonam Dubey, Arvind Akela 'Kallu Ji', Neha Shree Singh, Rishabh Kashyap (Golu) | in 2018 |
| 38 | Mai Sehra Bandh Ke Aaunga | Khesari Lal Yadav | in 2018 |
| 39 | Mohabbat Ke Saugat | Uday Srivastava, Smita Dubey, Harish Pandit | in 2018 |
| 40 | Tohre Pyar Ki Kasam | Arvind Akela 'Kallu Ji', Eenu Shree | in 2018 |
| 41 | Chor Machaye Shor | Akash Singh, Kajal Raghwani, Rani Chatterjee | in 2018 |
| 42 | Allahabad naam hi kafi hai | Manoj R. Pandey | in 2018 |
| 43 | Jangal Raj | Viraj Bhatt, Anjana Dabas | in 2018 |
| 44 | Jeetab Hum Payr Ke Bazi | Vinay Shrivastav | in 2018 |
| 45 | Tohre Khatir Ek Rahashya | Bhawna Barthwal, Awadhesh Mishra, Anand Mohan | in 2018 |
| 46 | Takrav | Amrish Singh, Som Lal Yadav, Sangeeta Tiwari, Payas Pandit, Kajal Nishad, Prakash Jais | in 2018 |
| 47 | A Hamar Jaan Tohra Me Basela Paranwa | Ritesh Pandey, Priyanka Pandit, Brijesh Tripathi, Bandini Mishra, Anand Mohan, Ratnesh Barnwal | in 2018 |
| 48 | Veer Arjun | Priyesh Sinha, Payas Pandit, Arpita Mali, Amrish Singh | in 2018 |
| 49 | Veerta Bihar ke | Avinash Shahi, Arvind Akela 'Kallu Ji' | in 2018 |
| 50 | Pahali Nazar Ko Salaam | Raj Ranjeet, Sanjay Pandey, Sushil Singh, Prakash Jais, Manoj Tiger, Amrapali Dubey | in 2018 |
| 51 | Milan Sanjog | Sanjay Pandey, Manoj Tiger, Aditya Mohan, Archana Singh, Kiran Yadav, Seema Singh | in 2018 |
| 52 | Rangeela | Pradeep R. Pandey (Chintu) | in 2018 |
| 53 | Tu Mera Dushman | Sanjay Pandey, Manoj Tiger, Aditya Mohan, Archana Singh, Kiran Yadav, Seema Singh | in 2018 |
| 54 | Baaghi Ishq | Awadhesh Mishra, Manoj Tiger, Priyanka Pandit, Kanak Pandey, Ritu Pandey, Rakesh Tripathi, Sujan Singh, Sandeep Rajput | in 2018 |
| 55 | Jung Siyasat Ke | Baleshwar Singh, Ravi Raj 'Dipu', Sanjay Pandey, C.P. Bhatt, Sahil Sekh, Eenu Shree | in 2018 |
| 56 | Pariwar Ke Babu | Ravi Kishan Shukla, Aditya Mohan, Rani Chatterjee, Subhi Sharma, Seema Singh, Eenu Shree | in 2018 |
| 57 | Patna Junction | Dinesh Lal Yadav 'Nirahua', Amrapali Dubey | in 2018 |
| 58 | Aaya Dabang Daroga | Avinash Shahi | in 2018 |
| 59 | Mamta Ka Karz | Khushi Shah, Vikrant Anand, Deepak Bhatia, Priyanka Rathod, Vikas Giri | in 2018 |
| 60 | Ballu Lohar | Sanjana Rai, Sapna, Vipin Singh, Abhay Kumar, Bhawesh Anand, Janardan Singh, Kamrul Khan, Veena Kadam | in 2018 |
| 61 | Chana Chur Garam | Shikha Mishra, Vishal Singh, Neha Shree, Pramod Premi | in 2018 |
| 62 | Radhe | Shikha Mishra, Vishal Singh, Neha Shree, Pramod Premi | in 2018 |
| 63 | Zahreela | Pawan Singh, Priyanja Pandit, Pakhi Hegde | in 2018 |
| 64 | Criminal | Pawan Singh, Ritu Singh | in 2018 |
| 65 | Jamai Raja | Ravi Kishan, Poonam Dubey | in 2018 |
| 66 | Jab Pyaar Kisi Se Hota Hai | Rakesh Mishra, Subhi Sharma | in 2018 |
| 67 | Tere Jaisa Yaar Kahan | Pawan Singh, Anjana Singh, Kajal Raghwani, Namnit Tiwari | in 2018 |
| 68 | Devar Bina Angana Na Sobhe Raja | Monalisa | in 2018 |
| 69 | Youdh Bhoomi | Priya Sharma | in 2018 |
| 70 | Teri Neri Aashiquith | Priyanka Pandit | in 2018 |
| 71 | Hero Uhe Je Heroine Le Jaye | Rani Chatterjee, Parmod Premi Yadav | in 2018 |
| 72 | Hitler | Viraj Bhatt, Monalisa | in 2018 |
| 73 | Pawan Raja | Pawan Singh, Akshara Singh, Monalisa | in 2018 |
| 74 | Kalua Crorepati | Arvind Akela 'Kallu' | in 2018 |
| 75 | Rani Ki Aayegi Baraat | Rani Chatterjee, Neel Singh, Priyanka Pandit, Rakesh Mishra | in 2018 |
| 76 | Tujhko Rakhe Ram Tujhko Allah Rakhe | Dinesh Lal Yadav 'Nirahua', Amrapali Dubey | in 2018 |
| 77 | A Bad Man Babu | Rani Chatterjee | in 2018 |
| 78 | Herogiri | Anand Ojha, Amrapali Dubey, Poonam Dubey | in 2018 |
| 79 | Aparadhi Saiyan | Pankaj Keshari, Kajal Raghwani, Jay Singh | in 2018 |
| 80 | Teen Budbak | Rakesh Mishara, Subhi Sharma | in 2018 |
| 81 | Ishq | Pawan Singh, Tanushree | in 2018 |
| 82 | Chahi Wanted Mehraru | Ravi Kishan | in 2018 |
| 83 | Zindagi Jhand Ba Phir Bhi Ghamand Ba | Ravi Kishan | in 2018 |
| 84 | Mehraru Party Zindabad | Ravi Kishan, Anjan Singh, Urvashi Chodry, Manoj Tiger, Poonam Dubey | in 2018 |
| 85 | Dahshat | Priyanka Pandit, Kajal Raghwani | in 2018 |
| 86 | Tirangaa Pakistan Me | Neha Shree | in 2018 |
| 87 | Saiya Bhailan Pardeshiya | Monalisa, Kalpana Shah | in 2018 |
| 88 | Yadav Pan Bhandar | Manoj Tiwari, Gunjan Pant | in 2018 |
| 89 | Jodi No.1 | Ravi Kishan, Rani Chatterjee | in 2018 |
| 90 | Devra Bada Satawela 2 | Ravi Kishan, Pradeep Pandey, Mohini Ghosh | in 2018 |
| 91 | Kanoon Ke Khelaadi | Ravi Kishan, Rani Chatterjee | in 2018 |
| 92 | Bhauji Aai Hamaar Angana | Vikrant Singh, Anjana Mishra, Ravi Tripathi, Komal Dhillo, Pushpa Verma, Sunil Jha, Lalitesh Jha | in 2018 |
| 93 | Ab Hoi Prem Yudh | Subhi Sharma, Khesari Lal Yadav, Ranjeet Singh | in 2018 |
| 94 | Jab Jab Khun Pukare | Rani Chatterjee | in 2018 |
| 95 | Vidhayak Ji | Rakesh Mishra, Subhi Sharma, Seema Singh, Priya Shrma | in 2018 |
| 96 | Bhauji Aai Hmaar Angana | Anjana Singh, Vikrant Singh | in 2018 |
| 97 | Kat Ke Rakh Deb | Pinghakas Ajay, Poonam Dubey | in 2018 |
| 98 | Jins Wali Bhauji | Prince Rajput, Roopa Mishra | in 2018 |
| 99 | Madhubala | Rakesh Mishra, Tanushree Chatterjee | in 2018 |
| 100 | Batasha Chacha 2 | Manoj Tiger | in 2018 |
| 101 | Rani Ke Hukumat | Rani Chatterjee, Neha Shree | in 2018 |
| 102 | Baagi Bhaile Sajna Hamar | Amrapali Dubey, Viraj Bhatt | in 2018 |
| 103 | A Raja Line Pe Aaja | Rani Chatterjee | in 2018 |
| 104 | Jaanam | Khesari Lal Yadav, Rani Chatterjee | in 2018 |
| 105 | Love Aur Raajniti | Ravi Kishan, Anjana Singh | in 2018 |
| 106 | Dabangai | Ravi Kishan | in 2018 |
| 107 | Aa Gale Lag Ja | Sujit Pandey, Monalisa, Nikhil Raj, Vinod Tiwari, Gajendre Brijraj, Raj Khan, Jitendre Gorakhpuri | in 2018 |
| 108 | Kehu Ta Dil Me Baa | Aadity Kashyap,Gopal Ray,Prem Dubey,Mona Singh | in 2018 |
| 109 | Nathuniya Pe Goli Maare Saiya Hamar | Rakesh Mishra, Subhi Sharma, Namit Tiwari (chintu) | in 2018 |
| 110 | Dandnayak | Yash Mishra, Poonan Dubey, Subhi Sharma and Sanjay Pandey | in 2018 |
| 111 | Ab Hoi Premyudh | Khesari Lal Yadav, Subhi Sharma, Ranjeet Singh | in 2018 |
| 112 | Dil Tohra Pe Aail Ba | N/A | in 2018 |
| 113 | Maryada Mangalsootra Ke | Pawan Singh and Khyati | in 2018 |
| 114 | Hamka Ishak Hua Hai yaro | Yash Kumar Mishra, Anjana Singh, Anara gupta, Seema Singh | in 2018 |
| 115 | Dil Ta Ho Gayel Tohar | Ajeet Anand, Mohini Ghosh, Brajesh Tripathi, Puja Singh, Rani Chopra | in 2018 |
| 116 | Aar Paar Ke Mala Chadhaibo Ganga Maiya ki | Vipin Singh | in 2018 |
| 117 | Pyar Ki Pukar | Rakesh Mishra, Priyanka Pandit | in 2018 |
| 118 | Lagi Nahi Chhute Rama | Pawan Singh, Kavya, Priyanka Pandit, Kunal Singh, Brijesh Tripathi, Sanjay Verma, Heera and Niraj Badshah | in 2018 |
| 119 | Son Of Bihar | Rakesh Mishra, Viraj Bhatt, Monalisa, Anajna Singh | in 2018 |
| 120 | Shahenshah | Ravi Kishan, Anjana Singh, Priyaka Pandit, Kunal Singh, Anand Mohan | in 2018 |
| 121 | Eena Meena Deeka | Priyanka Chopra | in 2018 |
| 122 | Rani Hum Ho Gaili Tohar | Gaurav Jha, Neha Shree, Baleshwar Singh | in 2018 |
| 123 | Dil Me Sama Ke | Vikram Raja, Priyanka Pandit | in 2018 |
| 124 | Loha Pahalwan | Pawan Singh, Priyanka Pandit | in 2018 |
| 125 | Kanch Ki Chudiyan | Roshan Kumar, Rani Chatterjee | in 2018 |
| 126 | Rani Ki Hukumat | Rani Chatterjee, Neha Shree | in 2018 |
| 127 | A Raja Line Par Aaja | Rani Chatterjee | in 2018 |
| 128 | Jab Jab Khoon pukare | Ravi Kishan, Rani Chatterjee | in 2018 |
| 129 | Rani Dildar Jani | Rani Chatterjee, Shyam Dehati, Monalisa | Upcoming |
| 130 | Arjun | Mayur Kumar, Shreya Mishra, Shivangi, Alok Shree Gupta, Glory Mohanta | Upcoming |
| 131 | Sangharsh | Dinesh Lal Yadav 'Nirahua' | Holi 2018 |
| 132 | Saiyaan Superstar | Pawan Singh, Akshara Singh, Arvind Akela 'Kallu' | NA |
| 133 | Kashi Amarnath | Ravi Kishan, Amrapali Dubey, Dinesh Lal Yadav Nirahua | NA |
| 134 | Jila Champaran | Khesari Lal Yadav, Mani Banerjee | NA |
| 135 | Swarg | Aditya Mohan, Ritu Singh, Arvind Akela 'Kallu Ji', Sanjay Pandey, Chunmun Pandey, Dev Singh, Nisha Dubey, Nidhi Jha, Seema Singh, Priya Sharma , Dev Singh, Gopal Rai , Anup Arora, Prem Dubey, Jaswant Kumar, Kiran Yadav | NA |
| 136 | Dil Hamar Mane Na | Rajveer Singh, Prakash Jais | NA |
| 137 | Jai Shree Ram | Vikrant Singh Rajput, Monalisa Biswas, Raju Singh, Raju Singh Mahi, Neha Shree Singh, Bandini Mishra, Lota Tiwari, Gopal Rai, Sujit Bhat | NA |
| 138 | India Vs Pakistan | Arvind Akela 'Kallu Ji', Rakesh Mishra, Shubham Tiwari, Yash Kumar Mishra, Priyanka Pandit | NA |
| 139 | Sipahi | Dinesh Lal Yadav 'Nirahua', Amrapali Dubey, Sanjay pandey | NA |
| 140 | Ham Hain Hindustani | Khesari Lal Yadav, Kajal Raghwani, Awadhesh Mishra, Sanjay Pandey | NA |
| 141 | Kasam Paida Karne Wale Ki | Yash Kumar Mishra, Anand Mohan, Ritu Singh | NA |
| 142 | Challenge | Pawan Singh, Madhu Sharma | NA |
| 143 | Sasural | Pradeep Pandey 'Chintu', Kajal Yadav, Sushil Singh | NA |
| 144 | Dhadkan | Pawan Singh, Shikha Mishra, Ritu Singh | NA |
| 145 | Jigar | Dinesh Lal Yadav 'Nirahua', Anjana Singh, Ritu Singh | NA |
| 146 | Ek Rajai Teen Lugai | Yash Kumar Mishra, Diya Singh, Anu Upadhyay, Shubra Ghosh | NA |
| 147 | Tabadala | Pawan Singh, Akshara Singh, Mohan Joshi, Sushil Singh, Manoj Tiger, Lalan Singh, | NA |
| 148 | Jaan Hamaar | Priya Sharma | NA |
| 149 | Dilwala | Khesari Lal Yadav, Akshara Singh | 2 June, 2017 |
| 150 | Nirahua Hindustani 2 | Dinesh Lal Yadav 'Nirahua', Amarpali Dubey | 12, May 2017 |
| 151 | Action Raja | Yash Kumar Mishra, Neha Shree Singh, Ritu Singh, Manoj Tiger, Sanjay Pandey | 21 Apr, 2017 |
| 152 | Allahabad Se Islamabad | Rani Chatterjee | 7 April, 2017 |
| 153 | Hum Hai Jodi No 1 | Ravi Kishan, Rani Chatterjee, Poonam Dubey | 2017 |
| 154 | Babri Masjid | Keshri Lal Yadav, Kajal Raghwani, Awadhesh Mishara, Sanay Pandey | 7 April, 2017 |
| 155 | Tere Jaisa Yaar Kaha | Pawan Singh, Kajal Raghwani, Kunal Singh, Anjana Singh | 7 Apr, 2017 |
| 156 | Nirahua Satal Rahe | Dinesh Lal Yadav 'Nirahua', Amrapali Dubey | 31 March, 2017 |
| 157 | Gangs of Siwan | Sahil Khan | 31 March, 2017 |
| 158 | Mohabbat | Pradeep R. Pandey(Chintu), Kajal Yadav, Poonam Dubey, Maya Yadav, Ayaz Khan, Santosh Shrivastav, Krishna kumar, Sanjay Verma, Awadhesh Mishra, Mehnaz Shroff | NA |
| 159 | Satya | Pawan Singh, Akshara Singh, Brijesh Tripathi, Umesh Singh, Lota Tiwari, Anu Upadhyay | 10 March, 2017 |
| 160 | Aatankwadi | Khesari Lal Yadav, Subhi Sharma, Awadhesh Mishra, Sanjay Pandey, Ranjeet Singh | 10 March, 2017 |
| 161 | Pahali Nazar Ko Salam | Mahi Singh, Dev Singh, Antra Banarjee, Raj Ranjeet, Sanjay Pandey, Sushil Singh, Prakash Jais, Manoj Tiger | 24 Feb, 2017 |
| 162 | Rang | Arvind Akela 'Kallu Ji', Ritika Sharma, Sanjay Pandey, Upasana Singh, Sanjay Verma, Gopal Rai, Seema Singh | 24 Feb, 2017 |
| 163 | Beta Hokhe Ta Aisan | Kuldeep Kumar, Avinash Pandey, Varsha Ritu, Shweta Mishra, Umesh Singh, Sanjay Pandey | 24 Feb, 2017 |
| 164 | Rangdari Tax | Yash Kumar Mishra, Awadhesh Mishra, Poonam Dubey | NA |
| 165 | Sarkar Raj | Pawan Singh, Awadhesh Mishra | NA |
| 166 | Mehandi Laga Ke Rakhna | Khesari Lal Yadav, Kajal Raghwani, Awadhesh Mishra, Sanjay Pandey, Ritu Singh | 3rd February, 2017 |
| 167 | Maai ke Biruwa | Kiran Yadav, Ayaz Khan, Santosh Shrivastav, Ram Mishraa, Raj Kapoor Shahi, Haseen Khan , Anjana Singh | 20 January, 2017 |
| 168 | Mehraru Chahi Milki White | Rani Chatterjee, Priyesh Sinha, Deepak Sinha, Seema Singh, Vishnu Shankar Belu, Rajendra Chauhan | 20 January, 2017 |
This Friday release Bhojpuri movies, new Bhojpuri movie releasing on this Friday, latest Bhojpuri movies releasing on this Friday, Bhojpuri movies releasing this week, Bhojpuri movies releasing this month, Bhojpuri movies releasing this year