Veero Ke Veer Bhojpuri Movie Full Details | Veero Ke Veer Bhojpuri Movie First Look Poster
Nivedan Choudhary, Akanksha Dubey, Anzi Niroula, Raja Ghosh Latest Bhojpuri Movie Veero Ke Veer Official Trailer, News, Photos, Video Songs, Audio Songs, First Look Poster, Full Cast and Crew Details With Release Date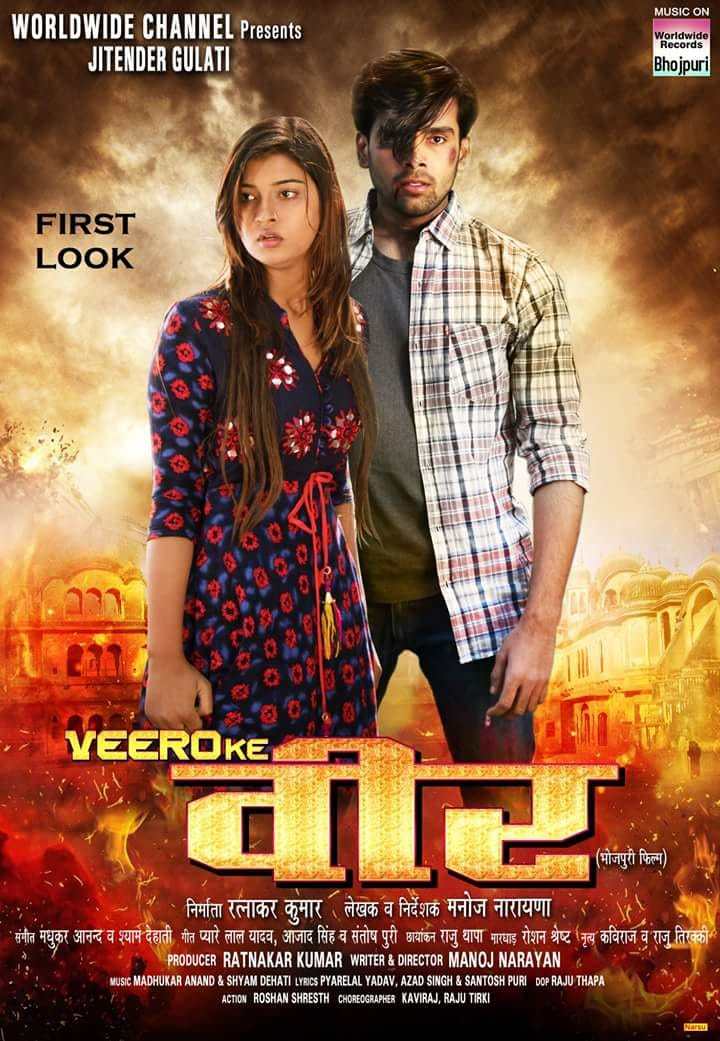 Veero Ke Veer is an upcoming Bhojpuri movie in 2019, Nivedan Choudhary, Akanksha Dube plays the lead role in this movie. This film is directed by Manoj Narayan, Producer is Ratnakar Kumar, and Music Director Madhukar Anand & Shyam Dehati. It is made under the banner of Worldwide Channel & Jitender Gulati Presents. Veero Ke Veer movie Shooting Location in India.
Veero Ke Veer Bhojpuri Movie Details

Movie

Veero Ke Veer

Release Date

in 2019

Genre

Action, Comedy, Romance

Veero Ke Veer Cast (Actor and Actress Name) Details

Actor:-

Nivedan Choudhary

Actress:-

Akanksha Dubey

Full Star Cast

Nivedan Choudhary, Akanksha Dubey, Anzi Niroula, Raja Ghosh, Yuv Raj Singh Rathore, Manoj Narayan, Amrit Narayan, Shantanu Singh, Nisha Singh, Rekha Saha

Veero Ke Veer Crew Members Details

Director

Manoj Narayan

Producer

Ratnakar Kumar

Story

Manoj Narayan

Music Director

Madhukar Anand & Shyam Dehati

Editor

Bipin Malla
Lyrics

Pyare Lal Yadav, Azad Singh

Singers

Madhukar Anand, Rini Chnadra, Priyanka Singh,Arun Dev, Sarodhi Bohra, Sandhya Sargam

Choreographer

Kabiraj Gahatraj, Raju Tirki

Action

Roshan Shresth

Music on

Worldwide Records

Banner

Worldwide Channel & Jitender Gulati Presents

Shooting Locations

India
Bhojpuri Movie Veero Ke Veer Official Trailer Watch Online Here
Visit Bhojpuri Gallery for Latest Audio, Video, Bhojpuri Movie News, Actor, Actress HD Wallpaper, Photos, Images, Photo Gallery Etc.