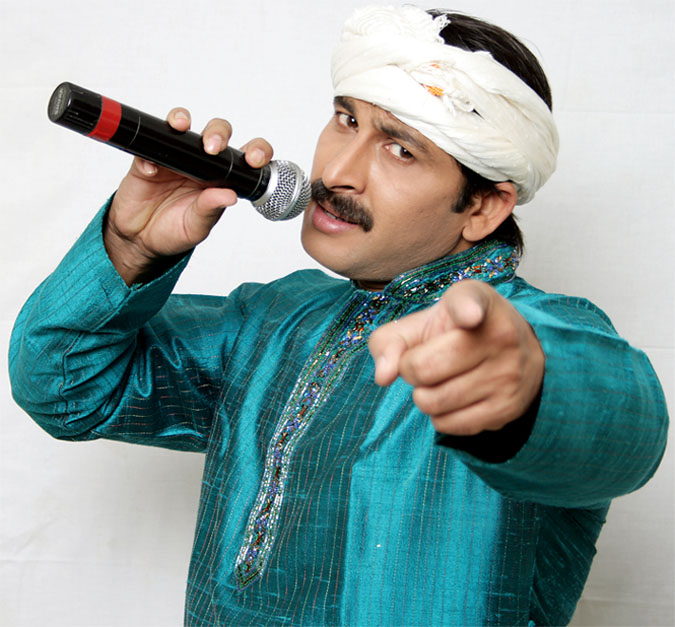 Manoj Tiwari (born 1 February 1971) is a singer, actor, television presenter and music director from Bihar, India. He has acted in the Bhojpuri genre of the Indian film industry and in 2005 was reported to be one of the two leading male stars of that genre.
Manoj Tiwari is also involved in politics, having contested the 2009 national elections for the Samajwadi Party. He won the North East Delhi (Lok Sabha constituency) in the 2014 Indian general elections from BJP. As Delhi BJP Chief, he also led the party to a record victory (184/272) in the recently concluded civic bodies poll, i.e., MCD Election 2017.
One of the six children of Chandra Deo Tiwari and Lalita Devi, his birthplace is Atarwalia, a small village in Kaimur district of Bihar.
Manoj Tiwari has completed his education from Banaras Hindu University, Varanasi. He holds a Bachelors degree in Sociology and a Masters degree in Physical Education. Prior to Tiwari's involvement in cinema, he had spent ten years working as a singer.
In 2003, he took a role in the film 'Sasura Bada Paise Wala'.
Manoj Tiwari continues to record music and release new albums. He performs around the world in concert. He released an album, Hey Mahadev, in 2009 that fused traditional music. He is listed as being music director for numerous releases. Manoj Tiwari also sang the hit song "Jiya Ho Bihar Ke Lala Jiya Tu Haazar Sala" in Anurag Kashyap's film Gangs of Wasseypur.
Manoj Tiwari in Politics
In 2009, Tiwari contested elections for the 15th Lok Sabha as a candidate for the Samajwadi Party in the Gorakhpur constituency. Now Manoj Tiwari As Delhi BJP Chief. He also won the North East Delhi (Lok Sabha constituency) in the 2014 Indian general elections from BJP.
His house in Mumbai was allegedly attacked in November 2009 by a group of people angry with remarks that they claimed he had made about Shiv Sena. Tiwari denied having made any comment on the matter, which revolved around a dispute between the Shiv Sena leader, Bal Thackeray, and the Indian cricketer Sachin Tendulkar.
Selected Television Filmography of Manoj Tiwari
Sur Sangram (season 1 & 2)
Bharat Ki Shaan: Singing Star (Season 2)
Welcome – Baazi Mehmaan-Nawaazi ki(2013)
Manoj Tiwari "Mridul" Filmography
Damad Ji (2005) With Rani Chatterjee
Sasura Bada Paisa (2006) With Rani Chatterjee
Daroga Babu I Love You (2011) With Rinku Ghosh
Bandhan Toote Na (2005)
Kab Aibu Anganwa Hamar With Shweta Tiwari
Ae Bahuji ke Sister With Swita Tiwari
Ganga (2006) With Amitabh Bachchan, Hema Malini, Nagma, Ravi Kisha, AjaI Sharma
Bhole Shankar (2008) Mithun Chakraborty, Monalisa, Master Shivendu
Gangotri (2008) With Bhumika Chawla, Amitabh Bachchan
Insaaf (2011) With Pawan Singh, Gajendra Chauhan, Sangita Tiwari
Ganga Jamuna Sarswati (2012) Rinku Ghosh, Ravi Kishan, Rani Chatarji, Dinesh Lal Yadav, Pakhi Hegde
Gobar Singh (2012)
Parshuram (2013) With Pakhi Higde
Devra Bhail Deewana With Pakhi Hegde, Pradeep Pandy 'Chintu'