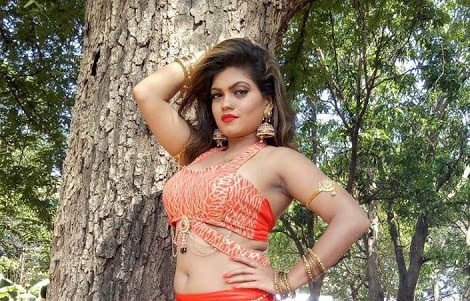 Nisha Dubey is a Singer and Actress of Bhojpuri Cinema. She is a very famous Bhojpuri singer in Bhojpuri music industry. Nisha is debut as actress in the film 'Dildar Sajna' with Arvind Akela 'Kallu Ji'. Nisha Dubey was born on 7th August 1999 in Buxar, Bihar. Kallu Ji is a popular singer and Actor in U.P, MP, Bihar & Jharkhand. She has many blockbuster movies including 'Dildar Sajna' With Arvind Akela 'Kallu Ji' and others.
Nisha Dubey Personal Profile
Birthday (Date of Birth): 7th August 1999
Place of Birth : Buxar Bihar, India
Occupation : Actress, Singer.
Debut Film : Dildar Sajna
Marriage Status: Marriage With Arvind Akela 'Kallu'
Nisha Dubey Filmography As Actress: All Movies List
2017 Gadar 2 Nisha Dubey, Pawan Singh, Akshara Singh
2017 Dil Bhail Deewana Arvind Akela Kallu
2017 Rudra Yaskh Kumar Mishra, Tanushree, Nisha Dubey, Awadhesh Mishra, Manoj Tiger, Kiran Yadav
2017 Nache Nagin Gali Gali Ritesh Pandey, Priyanka Pandit, Nisha Dubey
2017 Swarg Arvind Akela 'Kallu', Priya Sharma, Nisha Dubey, Aditya Mohan, Sanjay Pandey, Ritu Singh, Nidhi Jha ,Seema Singh
List of All Bhojpuri Movies Released in 2013 to 2016
2015 Dildar Sajna Arvind Akela 'Kallu'
Nisha Dubey Albums List
All Bhojpuri Music Albums List of 2012 to 2016
2016 Lasar Fasar Holi Me (Holi) Arvind Akela 'Kallu'
2015 Sajal Ghat Chhathi Mai Ke (Chhath) Arvind Akela 'Kallu'
— Saj Gail Mai Darbar (Bolbam) Arvind Akela 'Kallu' —
— Jai Ho Maiya Sherawali (Navratri) Arvind Akela 'Kallu' —
— Ae Maiya Sherawali (Navratri) Arvind Akela 'Kallu' —
— Dhoom Machal Ba Holi Me (Holi) Arvind Akela 'Kallu' —
— Chatkar Gawai Holi (Holi) Arvind Akela 'Kallu' —
— Sara Ra Ra Holi Ha (Holi) Arvind Akela 'Kallu' —
— Chadhal Ba Holi (Holi) Arvind Akela 'Kallu' —
— Colorfull Holi (Holi) Arvind Akela 'Kallu' —
— Choli Brand Holi (Holi) Arvind Akela 'Kallu' —
— Bada Hot Lageli (Romantic) Arvind Akela 'Kallu' —
— Jila Top Lageli (Romantic) Arvind Akela 'Kallu' —
— Ticket Honymoon Ke (Romantic) Arvind Akela 'Kallu' —
— Gavana Karake Saiyan (Romantic) Arvind Akela 'Kallu' —
— Chutputiya Batam Wali (Romantic) Arvind Akela 'Kallu' —
— Choliya Ke Hook (Romantic) Arvind Akela 'Kallu' —
— High Voltage Wali (Romantic) Arvind Akela 'Kallu' —
— Madam Style Mareli (Romantic) Arvind Akela 'Kallu' —
— Love Ke Tonic (Romantic) Arvind Akela 'Kallu' —
— Lemon Chus Lageli (Romantic) Arvind Akela 'Kallu' —
— Supar Fast Kawariya (Kanwa) Arvind Akela 'Kallu' —
— Ticket Katala Baba Dham Ke (Kanwa) Arvind Akela 'Kallu' —
— Kanwariya Is Ready Sawan Me (Kanwa) Arvind Akela 'Kallu' —
— Kailash King Bhole Nath (Kanwa) Arvind Akela 'Kallu' —
— High Court Bhole Nath Ke (Kanwa) Arvind Akela 'Kallu' —
— Devghar Housefull Bhail Ba (Kanwa) Arvind Akela 'Kallu' —
— Tari Wali Tari Piyade (Lok geet) Arvind Akela 'Kallu' —