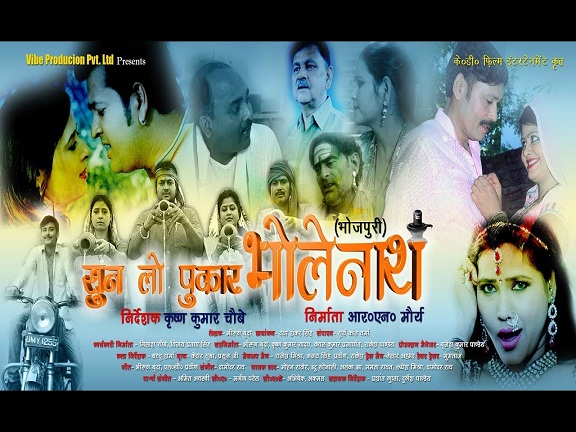 Sun Lo Pukar Bhole Nath Official Trailer Download and Watch Online
Sun Lo Pukar Bhole Nath Bhojpuri Movie Full Details | Sun Lo Pukar Bhole Nath Bhojpuri Movie First Look
Anand Dev Mishra and Karishma Mittal Latest Bhojpuri Movie Sun Lo Pukar Bhole Nath Official Trailer Download and Watch Online
Sun Lo Pukar Bhole Nath Official Trailer Bhojpuri Movie 2018
Anand Dev Mishra and Karishma Mittal Latest Bhojpuri Movie Sun Lo Pukar Bhole Nath Official Trailer, First Look Poster, Full Cast and Crew Details With Release Date
Cast & Crew Details – Anand Dev Mishra, Krishna Kumar Chaubey, Rakesh Pandey, Ravi Kant Rai, Nilesh Chaubey, Karishma Mittal, Priya Verma, Seema Singh, Reena Pandey
Sun Lo Pukar Bhole Nath is an upcoming Bhojpuri movie in 2018, Anand Dev Mishra and Karishma Mittal play a lead role in this movie. Sun Lo Pukar Bhole Nath film is Directed by Krishna Kumar, Producer by KD Films entertainments. It is made under the banner of VIBE production Pvt. Ltd. and Release in 2018. Sun Lo Pukar Bhole Nath movie Shooting Location in India.
Here We Share Latest information About Bhojpuri Movie Sun Lo Pukar Bhole Nath details like actors, actresses, Release Date, Box Office, News, Photos, Trailer Video Songs list and Cast & Crew Details.
If you like Bhojpuri sad song, Bhojpuri full movie, and latest Bhojpuri movie songs, Subscribe Today:- https://goo.gl/DHw2cC
Visit our website to download latest Bhojpuri songs and videos: https://www.bhojpurigallery.com/
Like Us On Facebook – https://www.facebook.com/bhojpurigallery
Follow Us – https://twitter.com/BhojpuriGallery
Visit Bhojpuri Gallery for Latest Audio, Video, Bhojpuri Movie News, Actor, Actress HD Wallpaper, Photos, Images, Photo Gallery Etc.